Hi Good People,
The team over at the Ford Tri-Motor Project site have just released a big batch of FREE repaints for the Microsoft default de Havilland 88 Comet aircraft. See Picture below for a couple of examples.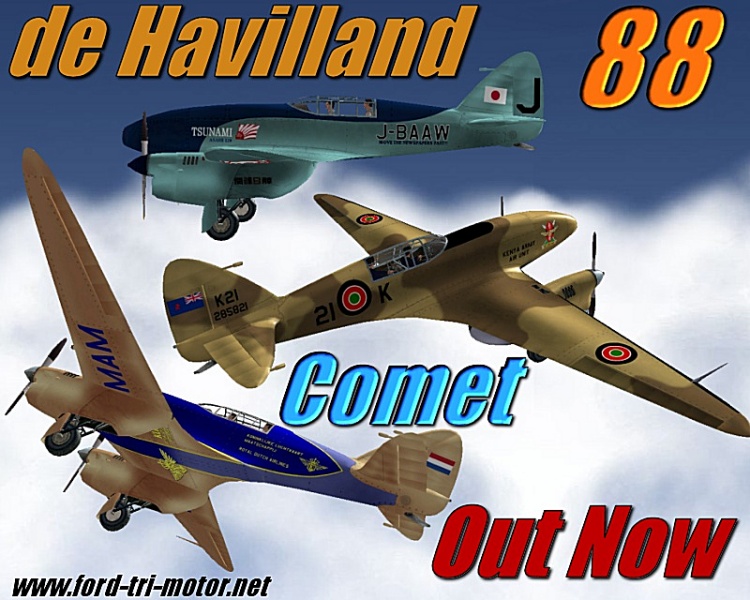 There are some very intesting repaints for this old girl within the batch available - many have been technically difficult due to the typical MS default mappings but I am sure that you will find some of them very enjoyable to fly. All for Free.
You will find them at
http://www.ford-tri-motor.net/de-havilland-88.htm
Anyway - pop on over to the de Havilland 88 page - enjoy the downloads and feel free to have a look around at the many other aircraft, scenery and even jigsaw puzzles available for free for your simming world.
Regards
Garry J. Smith
Messages: 3
Inscription: 04 Juil 2013, 06:06
Localisation: Newcaste
---
Hey !
Thanks for sharing this with us GarryJSmith ! However I'm not sure about which deHavilland 88 you're talking about... Are you talking about the default 2004 version ? If not, where can we download it ?
By the way, welcome to Rikoooo ! I hope you'll find here everything you need, most of us are English-Speaking so if you have any questions, feel free to ask them !
Gabriel
Vous voulez vous détendre un peu ? Allez voir par ici
------>
http://www.rikoooo.com/fr/forum/93/38505
Si vous voulez un avatar, n'hésitez pas à me contacter! C'est avec plaisir que je le ferai pour vous
Messages: 416
Inscription: 02 Oct 2010, 16:45
Localisation: Paris LFPG (15e)
Médailles: 7
---
Hi Gabriel,
Sorry mate - we are using the Microsoft Default de Havilland 88 (Comet) for FS2004 - that is why I posted this thread in the FS2004 area
If you have deleted the DH88 from your FS2004 sim - as many did - then you can download the Full Pack at the top of the page which includes the entire aircraft with an enriched panel set plus the 30 liveries all in the one package.
Go to this link and check out what is available - the full package is the first download file.
http://www.ford-tri-motor.net/de-havilland-88.htm
Thank you for your welcome - appreciated - in the not too distant future rikoooo.com will be hosting some of the Ford Project Stuff and possibly some stuff from my gjsmith.net site
Regards and happy simming.
Messages: 3
Inscription: 04 Juil 2013, 06:06
Localisation: Newcaste
---
---
3 messages • Page 1 sur 1
Qui est en ligne
Utilisateurs parcourant ce forum: Aucun utilisateur enregistré