Panel instructions
---
Description
Tupolev Tu-114 was flied by a crew of 5: captain, second pilot, navigator, flight engineer and radio. We modelled all the panels, although some of them are not as complete as on the real plane - mostly because of FS limitations, but also to make panels easy to use and to understand. When you first load the aircraft, you find yourself face to the captain's panel. To switch to the navigator's and the second pilot's panels, use red arrows pointing to the right and down ("hot spots" B and C on the screenshot below). Some of the panels can be shown directly in the usual way by pressing numbers on the keyboard: ATTENTION: the panel uses metric system (except some gauges - we mention all these cases). 1ft = 0.304m, 1nm = 1.852km, 1kts=1.852km/h. 1km = 3000ft, 100km/h = 54kts, 1m/s = 200ft/min

For all switches, the lower position is "OFF" and the upper position is "ON"

We recommend you turn the help messages on since some of the gauges are quite small and hardly readable.
---
Captain's panel
headlights group. Left to right: taxi lights on/off, landing lights on/off, landing lights deploy. You can also deploy the landing lights by using the tailhook shortcut (usually Shift+T). Switch on/off the landing lights by the usual shortcut Ctrl+L
autopilot led (red: "AP on") Unlike the other planes, here the "autopilot on" light is red and not green
autopilot turn left/right adjust. Use this to change the cap. Don't forget to return the button to vertical position to stop turning
throttle levers
elevator trimmer
altitude radar and a scale switch. 1 - from 0 to 120m, 2 - from 0 to 1200m. Press the button in the lower left corner to activate the radar. Use this gauge at low altitude, it indicates the right flight altitude regardless the pressure. Use the lower scale to land - the aircraft is high and you can touch the ground before you've planned. The red led to the right of the scale is altitude warning
Mach-meter
pitch indicator
indicated airspeed (km/h x10) To the left of the indicator - three red leds: critical pitch warning and overspeed warning
cabin lights group above: main panel lights, below: navigator's panel lights, flight engineer's panel lights
altitude (m x100). Big arrow: hundreds of meters, small arrow: kilometers
horizon. Be careful, if you inclinate too much the aircraft (more than 35° yaw), some of the engines can stop. Use the second pilot's panel to start them when airborne
yaw indicator
ILS indicator
vertical speed (m/s)
horizon
radio compass The yellow led to the left of the gauge is marker warning
VOR indicator
flaps indicators
landing gears deploy. click on the lid
ILS setting panel. Three buttons in the bottom serve to test the indicator. Switch the test mode on (the leftmost switch), then press each of the three buttons and check that the arrows on the ILS indicator #14 are moving. Then switch off the test mode
propellers feathering buttons Since propeller feathering is effective only when the engines are off, these buttons can also stop the engines.
autopilot hold speed
autopilot hold cap
autopilot hold ILS
open feathering buttons lid
autobrake on/off
fuel pressure
throttle level
gears state leds
altimeter (feet) and pressure adjust.
clock
autopilot cap adjust ("TURN" handle)
autopilot vertical speed adjust ("Vertical speed" handle)
autopilot hold: (top to bottom) nav. hold / cap hold / vertical speed hold
autopilot leds: (left to right) autopilot power switch / green led: autopilot's off / white led: autopilot's operational / red led: autopilot on / nav. hold / cap hold / altitude hold
three additional "hot spots" for switching to another panels (in yellow on the screenshot):
C : second pilot's panel Latest update: a switch has been added here - the cabin heating on/off. Use it when the windows start covering with ice
---
Second pilot's panel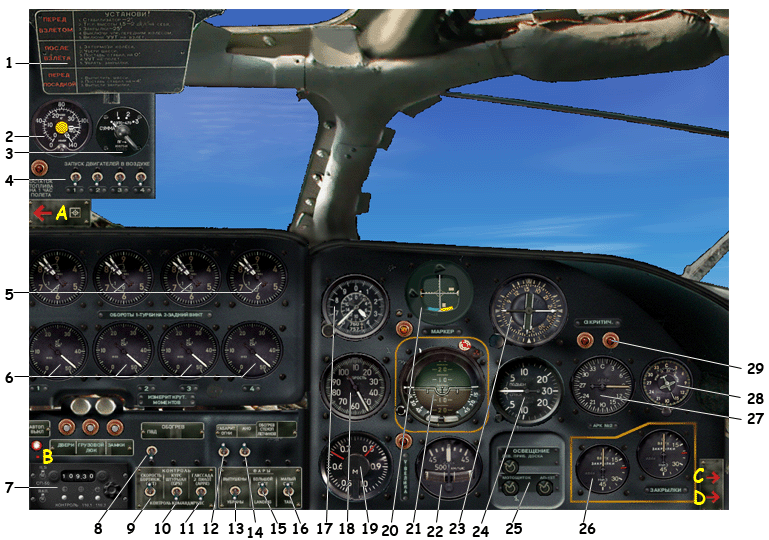 flight instructions notice. The text stays: "Before takeoff: set stabilizer pitch -2°, elevator trimmer 1.5-2°, flaps 25°, switch off front gear steering, deploy and switch on headlights. After takeoff: brake the wheels, retract gears, set stabilizer to 0°, retract landing lights, retract flaps. Before landing: deploy gears, set stabilizer to -4°, deploy flaps"
fuel quantity indicator. One arrow per tank, the arrows are numbered
fuel indicator switch. The leftmost position makes the indicator show the total fuel quantity. Other positions show the quantity per tank
airborne engines start The led to the left is a warning "Fuel left for 1h of flight"
turbine rpm (forward prop/rear prop)
torque
ILS setting panel the same as on the captain's panel. Above: red autopilot on led, three white leds: "passenger doors open", "cargo doors open", "locks". Actually all three lit together
pitot heating
autopilot hold speed
autopilot hold cap
autopilot hold ILS
nav.lights
beacon lights
landing lights deploy (on/off)
landing lights on/off
taxi lights on/off
altimeter (m x100)
indicated airspeed (km/h x10)
Mach-meter to the right: overspeed warning
ILS indicator below: marker warning
horizon
yaw indicator
radiocompass
vertical speed (m/s)
cabin lights
flaps indicators
VOR/ADF?
VOR?
pitch warning
"Hot spots" for switching to other panels:
---
Navigator's panel
To offer a comfortable view, the panel has been split into pieces and organized around the navigator's windows. On the real plane (and in the VC), the navigator sits turned left to the direction of flight and the window is at his right side.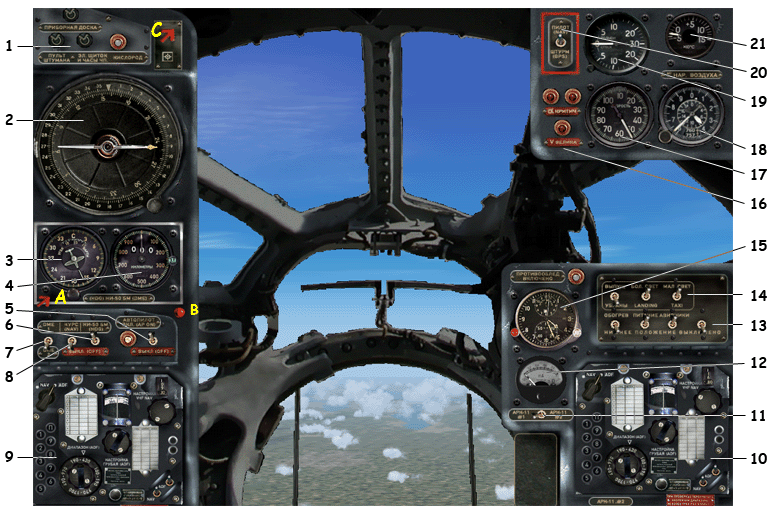 cabin lights to the right: oxygene on led
precision radiocompass
autopilot cap setting
DME indicator
autopilot on/off
autopilot cap hold
DME1/DME2 switch
autopilot nav. hold
radio panel 1 (see below)
radio panel 2 (idem)
switch ADF1/ADF2 for signal intensity indicator
signal intensity indicator
left to right: pilot's heating switch / battery switch / avionics switch / pitot heating switch
lights group
clock above: de-ice on led
overspeed warning
indicated airspeed (km/h x10)
altimeter (m x100)
vertical speed (m/s)
navigation mode NAV/GPS switch
outside temperature indicator
"hot spots":
A : shows a bigger autopilot cap setting gauge that can be kept in other panel views
C : back to Captain's panel
ATTENTION: don't forget to switch pilot's heating on, otherwise the windows will soon cover with ice. It will look like this: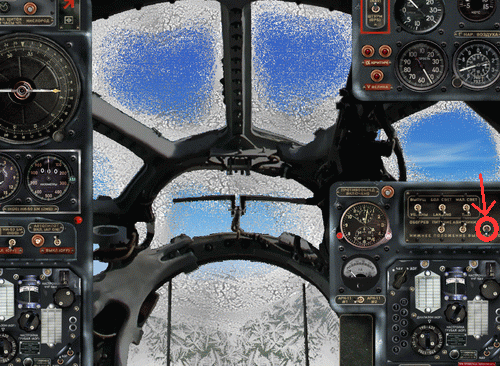 ---
Radio's panel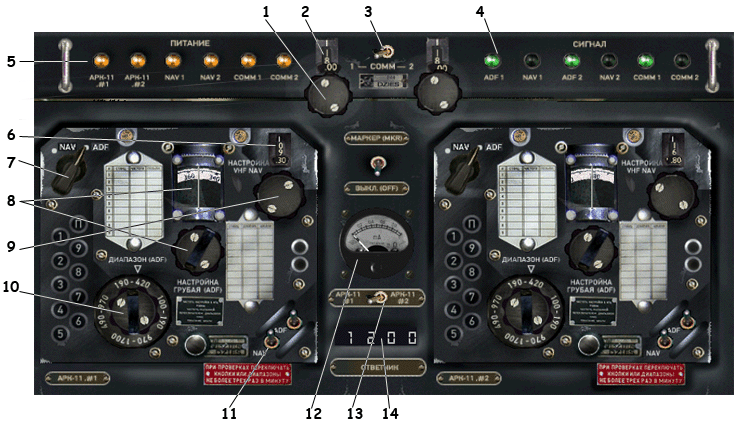 Radio's and Flight engineer's panels are simplified and can be used from within other panels.
COM1 frequency setting
COM1 frequency indicator
COM1/COM2 switch
signals indicators
receivers power on indicators
NAV1 frequency
NAV1/ADF1 switch
ADF1 indicator and setting
VOR1 setting
ADF1 frequency zones
Morse signal ADF1/VOR1 on/off
ADF signal intensity
switch ADF1/ADF2 for signal intensity indicator
squawk
The right side is for VOR2/ADF2, it is similar to the left one.
---
Flight Engineer's panel

fuel pumps switches
"Fuel left for 1h of flight" warning
emergency fuel pumps
fuel quantity indicator
fuel indicator switch (see explanations for the captain's panel)
stop starting engines button
engines start
magneto combined switches
battery switch
avionics switch
de-ice group (left to right: exterior wing section, wing between the engines, propellers, Pitot tube)
exterior lights (left to right: nav.lights, beacons, landing lights deploy, landing lights, taxi lights)
autopilot speed setting (knots or Mach)
autopilot speed hold (Mach / knots)
autothrottle switch
cabin lights
---
"Easy Navigation group"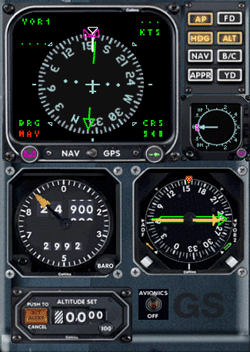 if you are lost, you can still use the "easy navigation group" that is accessible from most of the panels (through a little red hotspot). It shows the principal navigation instruments and autopilot controls. These are default FS gauges and should be familiar to any simmer, so we don't stop on them. Click on the hotspot or anywhere in the background of this panel to close it.
---
Autopilot AP-15PS
Technical characteristics and purpose
Autopilot AP-15PS is designed to assure automatic stabilization and guidance of the aircraft

The autopilot AP-15PS assures:

Stabilization of the aircraft's angle coordinates (cap, pitch, banking)
Altitude hold
Coordinated turns
Vertical speed hold
ILS approach hold
Principal technical characteristics:
Precision:

cap hold......................................... ±0.5°
bank hold............................................ ±1.5°
pitch hold........................................... ±0.6°

Maximal banking angle in a coordinated turn................. ±25 - 30º
Maximal pitch angle variation............................... ±3 - 5º
Startup time................................................ less than 3min
The autopilot receives the following information:
From the radio device "RUMB": cap, pitch, banking. Switch-off signals when the banking is greater than 35° or the pitch is greater than 15°
From the altitude metering device RV-5N2: dangerous altitude signal
From the automate AUASP: critical pitch signal and max vertical acceleration signal
Preparing AP-15PS
Before switching on
Before switching on the autopilot, make sure that:


the devices "RUMB" and "BORT-42" are switched on (switch the Avionics on)
the handles "Turn" and "Vertical speed" on the autopilot panel are in the neutral position (#33 and 34 on the scheme)
the handle "Turn" on the captain's panel is in the neutral position (#3)
yokes and pedals aren't blocked

Switch on the autopilot

switch on the power on the autopilot panel (leftmost button #36). A green led should light after 30-40 sec.
check the red leds are off (#36) next to the three hold switches (#35). Switch them on
move the yoke and the pedals back and forth and let them return to the neutral position
press the button "ON" on the autopilot panel (third button from the left on #36). A white led should light from the button and the green led should go off. The green altitude correction led on the captain's panel should light.

After that, you should follow some standard check-up procedures. Since they are not implemented, we don't stop on them.

Switch the autopilot off.

You can also switch on/off the autopilot from the navigator's cabin and the flight engineer's place (respectively #5 and #15 on the schemes)
Using the autopilot
After the takeoff, use elevator trimmers to stabilize the aircraft vertical speed at 10-12m/sec. Now, switch the autopilot on.

Note that you cannot set the altitude you wish to reach. However, you can control the vertical speed with the handle "Vertical Speed" (#34) on the autopilot panel. Make sure you have the help tooltips on (in the FS settings) - the tooltip indicate the actual value for the vertical speed hold. Once you've set the desired value, switch on the vertical speed hold using the correspondent switch.

As the plane climbs to the higher altitudes, reduce the vertical speed. Be careful not to exceed 10° pitch and keep the indicated airspeed higher than 350 km/h. Tipically use the following vertical speed settings:
| | |
| --- | --- |
| 0-3000m (0-10000ft) | 10 m/s (2000 ft/min) |
| 3000-6000m (10000-20000ft) | 7.5 m/s (1500 ft/min) |
| 6000-8000m (21000-26000ft) | 6 m/s (1200 ft/min) |
| 8000-10000m (26000-32000ft) | 3-4 m/s (600-800ft/min) |
If the pitch increases reaching 10° (and/or the speed decreases), set immediately the vertical speed to 0 and fly some time horizontally to gain speed. Then set again positive vertical speed and continue climbing.

When the vertical speed is less than 1.5m/s (300 ft/min), the autopilot sets it to zero.

Use the "TURN" handle (as well the one on the autopilot panel #33 as the one on the captain's panel #3) to make coordinated turns. Setting the handle one position from the center makes the plane bank 5°.

Note that you cannot set the cap directly. Use the coordinated turn to reach the desired cap. Set the "TURN" handle to zero 5-10 degrees before you reach the cap.

There is the IAS/Mach hold possibility, but it isn't a part of standard AP-15PS features. The correspondent buttons are situated on the flight engineer's panel (#13-14)