Canary Islands Part 1 for FSX and P3D
First part
of the mega scenery of the Canary Islands, an archipelago belonging to Spain.
To access the second part of the scenery
click here
.
It is strongly recommended to install Part 1 before Part 2.
Photo-real images were obtained from IDE servers Spanish government, they are public and free. Picture resolution is 1m /pixel (HD), 85% compression. No texture night. Included clipping with a beautiful coastline and beaches. A scenery not to be missed !
The island of 'La Gomera' is uniquely distributed in very high resolution
0.40 m/pixel !
true happiness for VFR flights.
The scenery (part 1 and 2) is available with a mesh (elevation data) LOD13 (5 meters) the geographic data were obtained from IGN - Institut National Geographic "©INSTITUTO GEOGRÁFICO NACIONAL DE ESPAÑA".
This pack (part 1 only) include the following airports:
GCHI
: Hierro Airport,
GCTS
: Tenerife South Airport,
GCXO
: Tenerife North Airport,
GCGM
: La Gomera Airport,
GCLA
: La Palma Airport.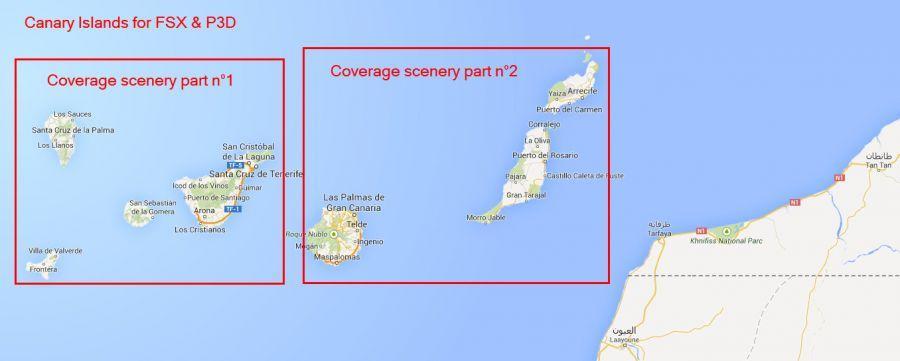 The scenery is NOT COMPATIBLE WITH CANARYSIM if you installed Canarysim, it must be replaced by this one.
The Canary Islands is one of seventeen Spanish autonomous communities. They are located in an Atlantic archipelago, about 150 miles west of Morocco and more than 1000 km from the south of the Iberian Peninsula.
The archipelago is part of the Macaronesia, a geographical region comprising the volcanic Canary Islands, Madeira including Selvagens Islands ( " Indians" ) , the Azores and the Cape Verde Islands.
It is divided into two provinces, defined as the outermost regions of the European Union : Las Palmas and Santa Cruz de Tenerife. Until 1927, Santa Cruz de Tenerife is the only capital of the archipelago, but this city is, from this year, share this feature, every four years, with the city of Las Palmas de Gran Canaria, which is the most populated of the Canary Islands city since 1910 .
Video of the scenery with the addition of REX 2.0 :
Images of the scenery :

Hierro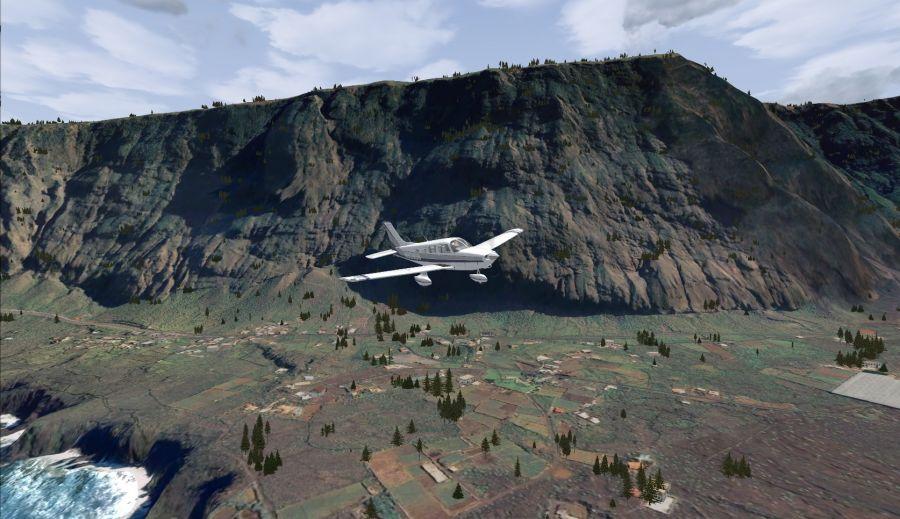 The installation is 100% automated by Rikoooo
, the configurator will handle for you the registration and activation of the scenery in Flight Simulator. When uninstalling, the installer will restore your configuration of origin.
Caution very large file
1,57 Go
, it is
strongly
recommended to use a download accelerator software to pause and resume at the point of arrest to have no surprises (eg
FlashGet
).
FILE INFORMATION
Rating

Size 1.57 GB

Downloads 162 183

License Freeware

Auto-install Installer Scenery v11

Îles Canaries partie n°1 is compatible with Prepar3D v1 and FSX-Steam as well as FSX (all versions)

Author : AHS334A – Alberto Sánchez
Share this with your friends:
---