Hawker Hurricane MK I for MSFS 2020

Here's Hawker Hurricane MK I, a British single-seat fighter aircraft, built by Hawker Aircraft Ltd. mainly for the Royal Air Service. This historic aircraft was designed by Sydney Camm. It is a low wing cantilever monoplane with an enclosed cockpit and retracted undercarriage. It served in the Phoney War, Battle of France, Operation Dynamo, Battle of Britain, defence of Malta and many more.
Thanks to mod creator
Fsadni
, you can fly this historic fighter aircraft on Microsoft Flight Simulator 2020. Today, approximately 17 Hurricanes are in airworthy condition worldwide, and many are preserved in museums.
FEATURES:
Exterior and interior animations
Most of the details are close to reality.
Crew: One
Length: 32 ft 3 in (9.83 m)
Wingspan: 40 ft 0 in (12.19 m)
Height: 13 ft 1.5 in (4.001 m)
Airfoil: root: Clark YH (19%); tip: Clark YH (12.2%)
Wing area: 257.5 sq ft (23.92 m2)
Empty weight: 5,745 lb (2,606 kg)
Max takeoff weight: 8,710 lb (3,951 kg)
Gross weight: 7,670 lb (3,479 kg)
Propellers: 3-bladed
Powerplant: 1 × Rolls-Royce Merlin XX V-12 liquid-cooled piston engine, 1,185 hp (884 kW) at 21,000 ft (6,400 m)
And many more…
ARMAMENT:
Guns: 4 × 20 mm (0.79 in) Hispano Mk II cannon
Bombs: 2 × 250 or 500 lb (110 or 230 kg) bombs
INFORMATION:
The maximum speed of Hawker Hurricane MK I is 340 mph (550 km/h, 300 kn) at 21,000 ft (6,400 m). The rate of climb of this beastly aircraft is 2,780 ft/min (14.1 m/s).
It is still under development and being developed through consecutive updates.
Message from Fsadni: Your support will help contribute to getting better models of these magnificent historical war machines for future releases, so if you can, it will be greatly appreciated.
DONATION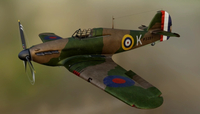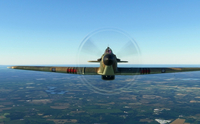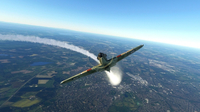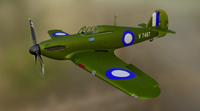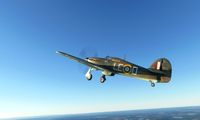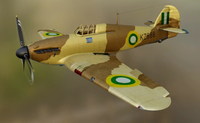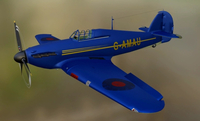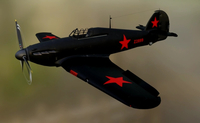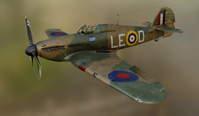 FILE INFORMATION
Version1.18

Rating

Size 188 MB

Downloads 1 285

License Freeware

VC3D Virtual Cockpit

Format Native MSFS (glTF) format

Auto-install Installer MSFS v1.1

Hawker Hurricane MK I is compatible with Microsoft Flight Simulator 2020 (MSFS 2020) only

Author : Fsadni
Share this with your friends:
---