Curtiss P-40 Tomahawk for MSFS 2020
A big thank you to
Fsadni
who once again brings us a beautiful plane from the Second World War on a platter. The mod is under development and will be updated regularly. The colors of the aircraft are very well reproduced compared to the real P-40.
The P-40 was America's finest fighter and produced in large numbers at the start of World War II. P-40s engaged Japanese aircraft at Pearl Harbor and the Philippines in December 1941. They also served with the famous Flying Tigers in China in 1942 and in North Africa in 1943 with the 99th Fighter Squadron, the first African-American fighter unit. American.
The Warhawk, a strong and reliable aircraft, was used in many combat areas - the Aleutian Islands, Italy, the Middle East, the Far East, the South West Pacific and some were sent to Russia. Although often slower and less maneuverable than its opponents, the P-40 earned a reputation for extreme toughness in combat. It served throughout the war, but was eclipsed by more capable aircraft. More than 14,000 P-40s were built and served with the air forces of 28 nations.
TECHNICAL NOTES:
Armament: Six .50-cal. Machine guns, 700 lbs. of bombs externally
Engine: Allison V-1710 of 1,150 hp
Maximum speed: 362 mph
Cruising speed: 235 mph
Range: 850 miles
Ceiling: 30,000 ft.
Span: 37 ft. 4 in.
Length: 31 ft. 9 in.
Height: 12 ft. 4 in.
Weight: 9,100 lbs. loaded
Message from Fsadni: Your support will help contribute to getting better models of these magnificent historical war machines for future releases, so if you can, it will be greatly appreciated.
DONATION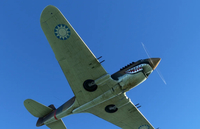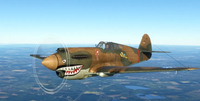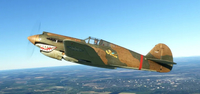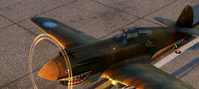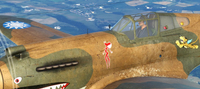 FILE INFORMATION
Version1.0.1

Rating

Size 105 MB

Downloads 2 225

License Freeware

VC3D Virtual Cockpit

Format Native MSFS (glTF) format

Auto-install Installer MSFS v1.1

Curtiss P-40 Tomahawk is compatible with Microsoft Flight Simulator 2020 (MSFS 2020) only

Author : Fsadni
Share this with your friends:
---