Royal Aircraft Factory SE 5 for MSFS 2020
Fsdani is a novice creator learning how to use Blender and the SDK as part of on-the-job training. He gained knowledge primarily through watching tutorials, particularly those of Jonx Tutorials, and received assistance from individuals on Discord.
Fsdani created this model of the Royal Aircraft Factory S.E.5, a British biplane fighter aircraft from World War I, and attempted to add smoke to the model as a fun feature, though this has not yet been successful.
The model is a work in progress and has functioning special effects for the tires and exhaust. Fsdani hopes this mod will be well-received and invites constructive feedback, as this is his first release.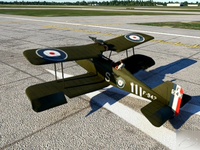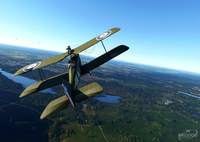 FILE INFORMATION
Version0.07

Rating

Size 57.0 MB

Downloads 578

License Freeware

VC3D Virtual Cockpit

Format Native MSFS (glTF) format

Auto-install Installer MSFS v1.1

Royal Aircraft Factory SE 5 is compatible with Microsoft Flight Simulator 2020 (MSFS 2020) only

Author : Fsadni
Share this with your friends:
---