Pou du ciel HM 293 for MSFS 2020
The Flying Flea (Pou du ciel) HM 293 for Microsoft Flightsimulator 2020 is an airplane designed by Henri Mignet with simplicity, safety, and low cost in mind. The plans were offered to everyone through a book, Le Sport de L'air, published in 1934 (excerpt from Wikipedia).
This model is an evolution of the original model, the HM14.
The plane is controlled on only two axes: the pitch axis and the yaw axis. The handle operated in depth acts directly on the front wing by changing its incidence and therefore the lift. The rear wing is fixed. The lateral control (twist) acts on the direction rudder. As there are no ailerons, rotation is carried out by induced roll. The pedals located at the pilots' feet act only on the right and left brakes, which allows for ground maneuvering (differential brakes) while the nose wheel remains free. These particularities require an adaptation of the simulator controls. Personally, Patrick Le Luyer assigned the direction axis to the twist control and only kept the brakes for the direction rudder.
The wings fold with the spoiler control (it is up to you to assign a key or button to the "spoiler rocker" control).
To start the engine: (explanatory video on:
https://youtu.be/PuWl9GDsoWM
)
Turn on the battery
Turn Magneto 1 (ALL1) to ON
Turn Magneto 2 (ALL2) to ON
Turn on fuel pump 1
Turn the alternator ON
Press the start button. Note that the Flying Flea does not have a parking brake, so it is necessary to keep the brake pedals depressed during startup.
The Ctrl+E method only works if the plane is parked on the parking or on the runway. If this is not the case, the engine must be started normally or the fuel pump must be turned on before applying Ctrl+E.
A paint kit folder containing all textures in .psd format will allow you to customize your plane.
This model is entirely free and should not be subject to any paid transaction. Modifications or improvements are authorized subject to authorization from Patrick Le Luyer and the owner of the actual plane.
Do not hesitate to visit the site
http://pouguide.org/
to learn more about this extraordinary Flying Flea.
Happy flights aboard the Flying Flea HM 293.
Patrick Le Luyer (
http://oldpat.e-monsite.com/
) is the creator of the mod.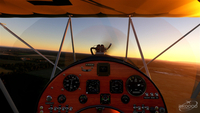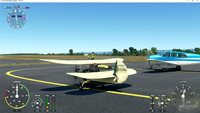 FILE INFORMATION
Version1.1

Rating

Size 163 MB

Downloads 495

License Freeware

VC3D Virtual Cockpit

Format Native MSFS (glTF) format

Auto-install Installer MSFS v1.1

Pou du ciel HM 293 is compatible with Microsoft Flight Simulator 2020 (MSFS 2020) only

Author : Patrick Le Luyer (oldpat)
Share this with your friends:
---