Douglas A-4E-F-G-H-K Skyhawk for FSX and P3D
This is a high-quality add-on that used to be paid, but is now free for everyone's enjoyment, thanks to Dino Cattaneo.

The Douglas A-4 Skyhawk is a single-seat subsonic attack aircraft capable of operating from aircraft carriers, developed for the US Navy and the US Marine Corps in the early 1950s. The delta-winged Skyhawk, equipped with a single turbojet engine, was designed and produced by Douglas Aircraft, and later McDonnell Douglas. It was originally designated the A4D in the US Navy's designation system prior to 1962.
The Skyhawk is a relatively lightweight aircraft with a maximum takeoff weight of 24,500 pounds (11,100 kg) and a top speed of over 670 miles per hour (1,080 km/h). The aircraft's five hardpoints support a variety of missiles, bombs, and other munitions. It is capable of carrying a bomb load equivalent to that of a World War II-era Boeing B-17 bomber and can deliver nuclear weapons using a low-altitude release system and a "toss bombing" technique. The A-4 was initially powered by the Wright J65 turbojet engine; from the A-4E onwards, the Pratt & Whitney J52 engine was used.
Skyhawks played key roles in the Vietnam War, the Yom Kippur War, and the Falklands War. Sixty years after the aircraft's first flight in 1954, some of the 2,960 produced (through February 1979) are still in service with the Argentine Air Force and the Brazilian Naval Aviation.
This package describes several versions of the A-4 family, including the A-4E/F and its derivatives (A-4G for Australia, A-4H for Israel, and early A-4Ks for New Zealand). The "SuperFox" versions (late-model A-4F with the J-52-P408 engine primarily used for the adversary role) are also included.
This package includes:
Detailed external visual models with customizable loads. The external visual models include:
- Early A-4E without electronic hump
- Improved A-4E with electronic hump
- First-generation A-4F, A-4G, A-4H, and A-4K (prior to the KAHU project)
- A-4F "SuperFox," including a special model for the Blue Angels


A detailed representation of the virtual cockpit. NOTE: only one cockpit model is provided: the first-generation A-4F model is used for all visual variants.
Extensive use of PBR materials (only for P3D64bits)
Over 20 detailed liveries including attack, training, and adversary squadrons from the US Navy and US Marine Corps; the Royal Australian Navy, Royal New Zealand Air Force, and Israeli Air Force.
Accurate flight model based on real-world flight manuals. Different engine performance between the -P6, -P8, and -P408 variants.
Support for VRS Tacpack (required for weapons functionality)
Compatibility with VRS Tacpack Carriers and SWS Carrier Environment X (CEX)
Detailed manual.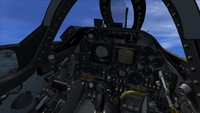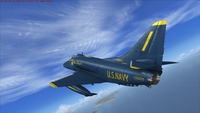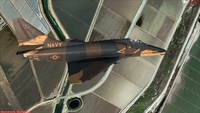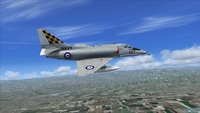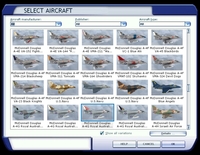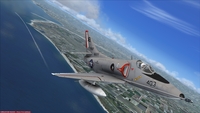 FILE INFORMATION
VersionFSX: 1.02 - P3D4: 1.03

Rating

Size 590 MB

Downloads 1 537

License Freeware

VC3D Virtual Cockpit

Format Native FSX / P3D format

Auto-install Installer version 10.5

Douglas A-4E-F-G-H-K Skyhawk is compatible with Prepar3D v1 up to Prepar3D v5 and FSX-Steam and FSX-Acceleration as well as FSX-SP2

Author : Dino Cattaneo
Share this with your friends:
---