SHRS F-111 Aardvark FSX SP2 & P3D
If you ever wanted to fly the F-111 skimming the tree tops at high speeds and whip around a mountain in a 60 degree bank while the autopilot does all the work, then this is the aircraft package for you.
This update has the only True Terrain Following Radar system with Pitch and Roll Stabilization that looks ahead of the aircraft to avoid mountains. It is integrated into the Autopilot and Instrument systems for Auto or Manual TF operation. The autopilot system models the real F-111 autopilot Stability Augmentation Modes with pitch and roll sub-channels. Control Stick Steering uses Pitch and/or Roll control stick input to override the pitch and/or roll autopilot channel(s) without disengaging the autopilot settings. The autopilot settings are re-engaged using a button on your control stick (bound to the 't" key) returning the aircraft to autopilot control.
There are 4 different Custom 2D and VC Cockpits, Aircraft included are F-111E, F-111F, F-111G, FB-111A, FB-111A with pre AMPS avionics, and YFB-111A. 16 Custom textures with a description for that tail number in the aircraft details menu. Over 110 functional gauges and switches. Included is a custom sound package. See the features Doc for more details.


For maximum enjoyment please read the documentation !!!
The General Dynamics F-111 Aardvark is an all-weather bomber with variable geometry developed by the United States in the 1960s. The development of this aircraft has been difficult, but once all the problems are resolved, the F-111 proved to be a formidable weapon and very reliable. It was built in 554 copies. In December 2010, it was withdrawn from service by the Australian Army, the last to have in service. (Wikipedia)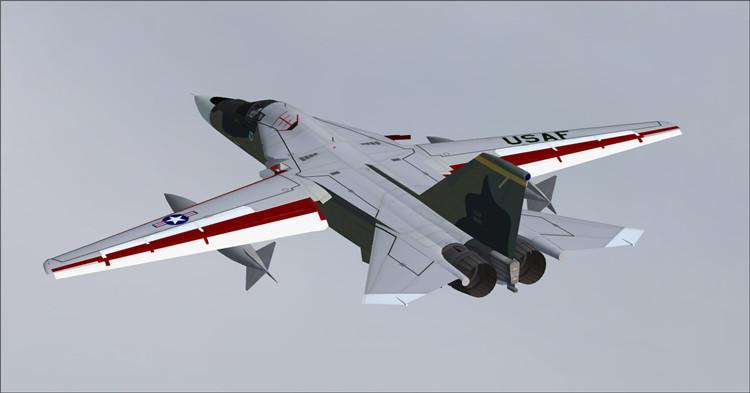 FILE INFORMATION
Rating

Size 56.5 MB

Downloads 23 585

License Freeware

VC3D Virtual Cockpit

FormatPort-Over - Not compatible P3Dv4+

Auto-install From author

SHRS F-111 Aardvark is compatible with Prepar3D v1 and FSX-Steam as well as FSX-SP2

Author : Alphasim, Steve Hess & Roman Stoviak
Share this with your friends:
---