UKMIL Harrier Package for FSX and P3D
Here's Harrier GR5 / 7 and T10 for FSX or P3D. Takeoff and vertical landing. Including several textures and models, including custom sounds and a detailed VC. Including detailed 3D model.
This add-on is free, but it has been established to support HELP FOR HEROES (H4H) a British charity launched on 1 October 2007 to help British servicemen and women injured since September 11, 2001.
Click on the link above if you would like to donate to this organization:
https://www.justgiving.com/ukmil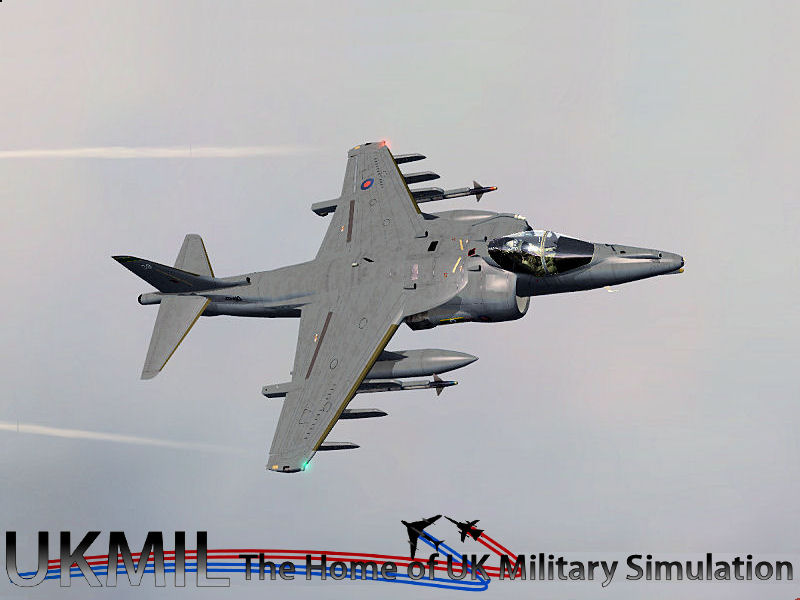 The British Aerospace/McDonnell Douglas Harrier II is a second-generation vertical/short takeoff and landing (V/STOL) jet aircraft used previously by the Royal Air Force (RAF) and, between 2006 and 2010, the Royal Navy (RN). The aircraft was derived from the McDonnell Douglas AV-8B Harrier II, which itself was a development of the Hawker Siddeley Harrier. Initial deliveries of the Harrier II were designated in service as Harrier GR5; subsequently upgraded airframes were redesignated accordingly as GR7 and GR9.
Both the RAF and RN operated the Harrier II as a ground attack platform; the Harrier II was also capable of being operated from the Invincible class aircraft carriers. The Harrier II flew combat missions in Kosovo, Iraq, and Afghanistan. In December 2010, budgetary pressures led to the early retirement of all Harrier IIs from service. The decision to retire was controversial as there was no immediate fixed-wing replacement in its role; in the long term the Harrier II is to be replaced by the Lockheed Martin F-35 Lightning II. (Wikipedia)
---