Piper PA-38 Tomahawk v1.0 X-Plane 9
For the version of this add-on compatible with
X-Plane 10
click here
The Piper PA-38 Tomahawk, is the two-seater plane school launched by Piper in 1975 to compete with the hegemonic Cessna 150 in this area. The first copies are delivered in 1977. 2500 PA-38 will be produced to stop its production in 1982. Its T-tail is emblematic of the time.
The aircraft modelled is a 1981's Piper Tomahawk. This aircraft is equipped with a Lycoming O-235-L2A (112 hp) engine, and Narco avionics.
Features of the model are:
Complete exterior model designed in Blender, with animated parts (Control surfaces, Flaps, detailed Landing gear, nose gear steering, suspension, cabin doors, etc.)
Four paint schemes and blank textures are Included in the package.
2D panel with custom instruments. All systems are emulated.
Functional Circuit Braker Panel, in 2D panel and 3D cockpit
Custom sounds.
Animated 3D Pilots designed in Blender.
Fully functional 3D cockpit, with manipulators-based technology, All systems are emulated.
Manual in English and Spanish provided in the pack, it is imperative to read the instructions to take control of this add-on.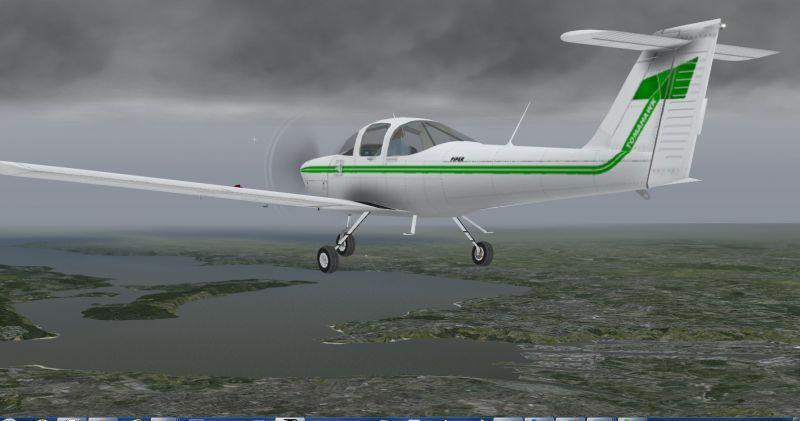 FILE INFORMATION
Rating

Size 15.6 MB

Downloads 4 399

License Freeware

VC3D Virtual Cockpit

Auto-install Installer version 2

Piper PA-38 Tomahawk v1.0 X-Plane 9 is compatible with Laminar Research X-Plane 9

Author : Adrián Fernández Gómez (awall86)
Share this with your friends:
---