Fort Wayne Intl Airport P3D
For FSX/Steam compatible version
click here
This is a detailed rendition of Fort Wayne International Airport, Indiana, USA. The airport is a regional airport serving Northeast Indiana and is also the home of the USAF 122nd Fighter Wing Indiana ANG.
The airport was originally named "Baer Field" as a World War II military base. During World War II more than 100,000 military personnel served at the airport.
The airport has undergone an aggressive improvements plan which included expansion of the terminal and parking areas, upgrades to the runways, and the creation of an Air Trade Center to promote economic development in Northeast Indiana. As a result of FWACAA's commitment to customer service, Fort Wayne International Airport was recognized by USA Today as one of the friendliest airports in the nation.
The airport handles about 35,000 landings/take-offs annually. Most of the major US airlines or their feeders serve the airport and most are feeding their hubs for onward connections. Allegiant serves holiday markets and smaller routes. The airport has a significant presence of cargo carriers Fedex and UPS.
The two big FBOs are modeled in the scenery. The new Fort Wayne Aero Center is in the center while Atlantic Aviation is just northwest of the main terminal.
Located adjacent to the Fort Wayne International Airport is the 122nd Fighter Wing of the Indiana Air National Guard. The 122nd flies the A-10 Thunderbolt II out of their base in Fort Wayne, Indiana. You can see them in the scenery.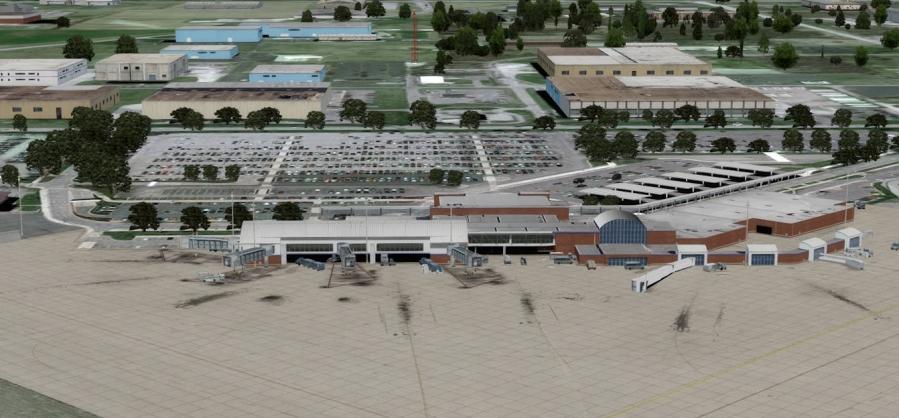 ---