Tupolev Tu-154m v2.03 Project Tupolev for FS2004
Updated 12/06/2010: Added patch 2.0.3
A year and a half of work were needed to complete this update. Here is a new version of the Tu-154 version 2.03. A very large part of the work has been done to fill gaps, fix bugs and errors, improve the appearance and readability of many panels. There is now a system of modern fire protection, a liquid cooling system, taking into account warming brake discs, and most importantly, to work written entirely around diesel engines, as well as many other improvements and additions.
Our opinion


Unique experience ! This aircraft, compatible FS2004 was designed for hard-simmers. Realism has been pushed to its maximum level. Do not try to start the engines of this Tupolev Tu-154m without consulting the manual because there are procedures and they are long. All buttons on the panel 2D and VC are faithfully reproduced and functional, as well as all hydraulic systems (3 in all). Outside, it is a perfect reproduction and modeling. A big thanks to the team Project Tupolev for the realization of such freeware and thanks for permission to broadcast on rikoooo.com. The simmeurs who's love complexity and sophistication will be served. Note that when you hover a button or an item with the mouse, help is displayed in English. Before downloading, you can already take a look at the manual (pdf) and get an idea about this aircraft.
Check the manual of Tupolev Tu-154m
Award

The Tupolev Tu-154m received a "
AVSIM FREEWARE GOLD AWARD
" from
avsim.com
the world leader in simulation. You can see a complete test conducted by competent persons by clicking on the image below :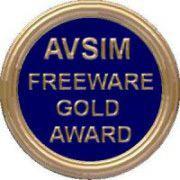 The plane
The Tupolev Tu-154 (Russian: Ту-154; NATO reporting name: Careless) is a three-engine medium-range narrow-body airliner designed in the mid-1960s and manufactured by Tupolev. As the workhorse of Soviet and (subsequently) Russian airlines for several decades, it carried half of all passengers flown by Aeroflot and its subsidiaries (137.5 million/year or 243.8 billion passenger km in 1990), remaining the standard domestic-route airliner of Russia and former Soviet states until the mid-2000s. It was exported to 17 non-Russian airlines and used as head-of-state transport by the air forces of a number of countries.
With a cruising speed of 975 kilometres per hour (606 mph), the Tu-154 is one of the fastest civilian aircraft in use and has a range of 5,280 kilometres (3,280 mi). Capable of operating from unpaved and gravel airfields with only basic facilities, it was widely used in extreme Arctic conditions of Russia's northern/eastern regions where other airliners were unable to operate. Originally designed for a 45,000 hr service life (18,000 cycles) but capable of 80,000 hrs with upgrades, it is expected to continue in service until 2016, although noise regulations have seen flights to western Europe and other areas restricted. In January 2010, Russian flag carrier Aeroflot announced the retirement of its Tu-154 fleet after 40 years, with the last scheduled flight being Aeroflot Flight 736 from Ekaterinburg to Moscow on 31 December 2009.
Since 1968 there have been 39 fatal incidents involving the Tu-154, most of which were caused either by factors unrelated to the aircraft or by its extensive use in demanding conditions. (wikipedia)
---