Bristol Type 188 for FSX and P3D
Beautiful Bristol Type 188 native for FSX and 100% compatible with Prepar3D v4 and v5. Designed with custom 3D gauges and a marvellous highly detailed virtual cockpit including multiple animations. Included with a must-read PDF manual. Also included very impressive afterburner effects. Created by Tyler Gladman.
Bristol Type 188, the 'Flaming Pencil' was a British high-speed research aircraft. Designed to meet operational requirement ER.134T for a test bed capable of speeds greater than Mach 2.
Due to the anticipated effects of kinetic heating at high Mach numbers, the fuselage was constructed of stainless steel. Two aircraft were built, XF923 and XF926.
The first flight of XF923 was on 14th April 1962 and then XF926 with upgraded Gyron Junior engines on 29th April 1963.
Ironically, the Maximum speed achieved was Mach 1.88 at 36,000 ft. Although the top speed of the Type 188 was disappointing, the airframe advanced understanding and knowledge of structures, oils, electrics, hydraulic fluid, bearings, tires, windows and cabin environment at high temperatures as well as telemetry which was used during the development of Concorde.
Last flight was 11th January 1964. One Bristol Type 188 remains at the RAF Museum, Cosford.
General characteristics:
Crew: one
Length: 77 ft 8 in (23.68 m)
Wingspan: 25 ft 1 in (10.70 m)
Height: 13 ft 11 in (4.23 m)
Wing area: 396.25 ft² (36.85 m²)
Gross weight: 20,000 lb (13,608 kg)
Powerplant: 2 × de Havilland Gyron Junior DGJ.10R turbojet, 10,300 lbf (44.4 kN) dry, Reheat 14,000 lbf
(62.2kN), 20,000 lbf (88.9 kN) at 36,000 ft.
Landing approach speed 188 knots.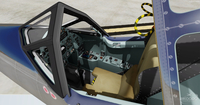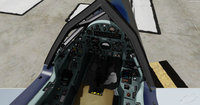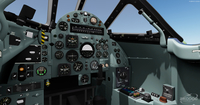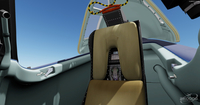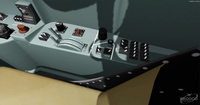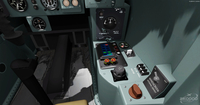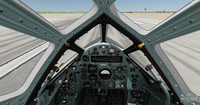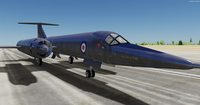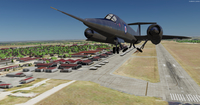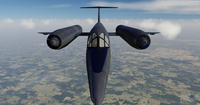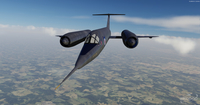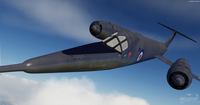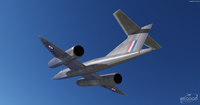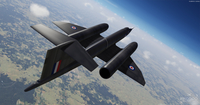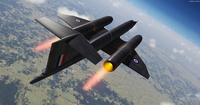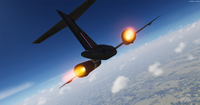 FILE INFORMATION
Version1.0

Rating

Size 89.4 MB

Downloads 2 208

License Freeware

VC3D Virtual Cockpit

Format Native FSX / P3D format

Auto-install Installer version 10.5

Bristol Type 188 is compatible with Prepar3D v1 up to Prepar3D v5 and FSX-Steam as well as FSX (all versions)

Author : Tyler Gladm
Share this with your friends:
---