TA-4J package for for FSX and P3D
This is a high-quality add-on that used to be paid, but is now free for everyone's enjoyment, thanks to Dino Cattaneo.
The TA-4 Skyhawk is a highly respected aircraft that has been utilized for advanced training in various countries around the world. The TA-4 is the trainer version of the renowned Douglas A-4 Skyhawk, a highly versatile aircraft that has been used in various roles including ground-attack, fighter-bomber, and even as a reconnaissance platform. The TA-4 was introduced to the United States Navy in the TA-4J configuration, which was designed to replace the aging TF-9J Cougar.
For decades, the TA-4J served as the advanced jet trainer in the United States Navy with white and orange markings. It was eventually replaced by the T-45 Goshawk, but not before additional TA-4Js were assigned to Instrument Training RAGs at all the Navy master jet bases under RCVW-12 and RCVW-4. The Instrument RAGs were initially responsible for providing jet transition training for Naval Aviators during a period when Naval Aviation still had a significant number of propeller-driven aircraft. The RAGs also provided annual instrument training and check rides for Naval Aviators.
One of the unique features of the TA-4 is its small size and superb low speed handling. These characteristics make it an ideal platform for teaching fleet aviators the finer points of DACT (Dissimilar Air Combat Training), which is an essential part of modern air combat. As a result, the TA-4 eventually transitioned into the primary role of Adversary training, with squadrons displaying vivid threat type paint schemes.
In addition to its use in the United States Navy, the TA-4 has been utilized for advanced training in several other countries around the world. These countries include Australia, Israel, New Zealand, Brazil, and Argentina. The versatility of the TA-4 and its ability to provide an excellent platform for advanced training make it a highly respected aircraft in the aviation community.
This model features:
Detailed external visual model with customizable loads. User can also pick between different options for guns and refuel probe.
Detailed virtual cockpit rendition for both the front (student/pilot) and the rear (instructor) cockpits
Extensive usage of PBR materials (P3D 64bits only)
14 detailed liveries including U.S.Navy Traning and Adversary Squadrons, Blue Angels, Australian Navy, Israeli Air Force and Royal New Zealand Air Force
Accurate flight model based on real world flight manuals
Support for VRS Tacpack (required for weapons functionality)
Compatibility with both VRS Tacpack Carriers and SWS Carrier Environment X (CEX)
Detailed manual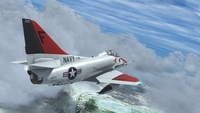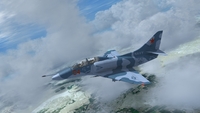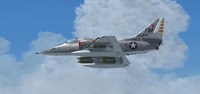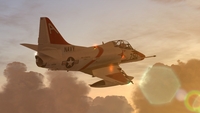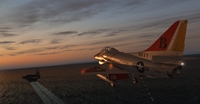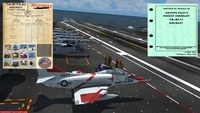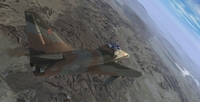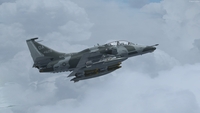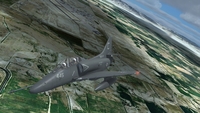 FILE INFORMATION
VersionFSX: 1.15 - P3D4: 1.16

Rating

Size 449 MB

Downloads 665

License Freeware

VC3D Virtual Cockpit

Format Native FSX / P3D format

Auto-install Installer version 10.5

TA-4J package for is compatible with Prepar3D v1 up to Prepar3D v5 and FSX-Steam and FSX-Acceleration as well as FSX-SP2

Author : Dino Cattaneo
Share this with your friends:
---