Fouga Zephyr FSX Acceleration v2.0
The Fouga Zephyr comes in two configurations:
- A "solo" configuration ( single-pilot positioned on front seat )
- A dual control "DC" configuration with two pilots on board. This version is particularly adapted to use with "Shared Cockpit" option of FSX.
Several differences between the real plane and these models were introduced to make its use easier for the virtual pilot:
- the nose gearwheel is steerable while the real Fouga was steered on ground with brakes
- a GPS, a VOR/DME, a TACAN and an automatic pilot are introduced in both models
- several supplementary lights are placed on the panel to ease virtual flying ( flaps, landing gear, airbrakes)
WARNING ! This version 2 has been developed for FSXAcceleration. It is not compatible with Flight Simulator 2004 (FS9). Its compatibility with an other version of FSX( SP1 - SP2 ) is not assured.
It is imperative to read the manuals included with this package including the one that teaches you how to land on a carrier ship (very informative)
Here is a short video introduction by AmentibaHistory
Not as famous as his "grand-brother", the Fouga Magister aircraft, the Fouga Zephyr is the naval version of the Fouga. At the beginning of the fifties, the French Navy Authorities, searching a national way for training their pilots, were very interested by the Fouga program in progress for the French Air Force. An adapted version to the Navy specifications was built and on 1956 july 31, the first Fouga CM170M prototype, named "Esquif", made its first flight. A purchase of 30 aircrafts was notified and the delivery was spaced between 1959 and 1961. This was the single purchase order of this aircraft version renamed CM175 "Zephyr" in accordance with other French Navy aircrafts at this time ( Aquilon, Alize) using winds' names. Moreover the Fouga Zephyr was used by the French Navy, mainly with the Foch and the Clemenceau carriers. During more than thirty years, the Zephyr has shown its reliability and robustness qualities under severe use conditions.
An aerobatic team flying Zephyr was created in 1961 by the French Navy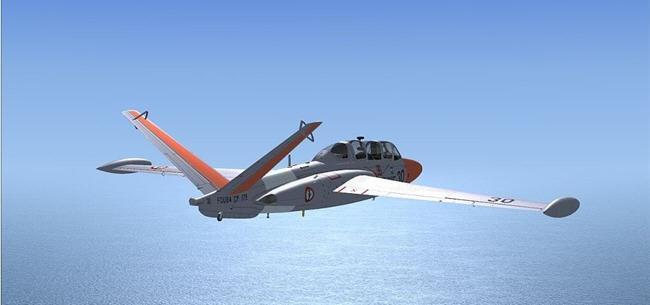 General characteristics :
Special feature of the airframe includes a 110° angle butterfly tail
Wingspan: 12,15m
Length: 10,20m
Height: 2,90m
Seemingly very similar to the Fouga Magister aircraft, the Zephyr is however characterized by important transformations.
Essentially:
- airframe reinforcements
- reinforced landing gear including a special function for "over-inflate" nose gear shock absorber
- sliding canopies to authorize catapult launching and landing with opened canopies
- tail hook and devices for handing during the catapult launching
- angle of attack indicator (BIP) for an accurate carrier landing control
The Fouga Zephyr has two Marbore II engines
Maximum mass to catapult 3450 kg
Maximum thrust (sea level) 400 daN(x2)
Maximum RPM 22600 rpm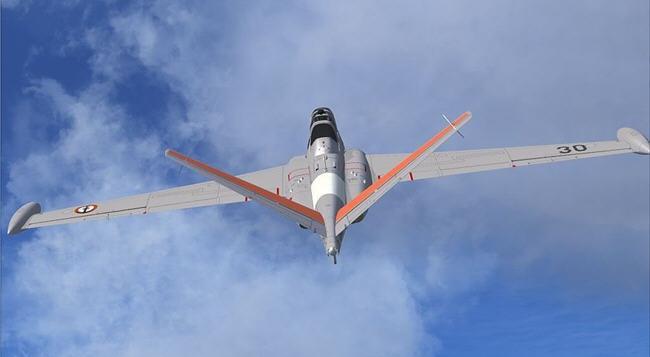 FILE INFORMATION
Rating

Size 31.26 MB

Downloads 17 519

License Freeware

VC3D Virtual Cockpit

Format Native FSX / P3D format

Fouga Zephyr FSX Acceleration v2.0 is compatible with FSX-Steam and FSX-Acceleration

Author : Modeled by the RESTAURAVIA team with the cooperation of the ROYALE FRENCH NAVY ( RFN )
Share this with your friends:
---