Tom Airbus A330 MRTT for FSX and P3D
A tanker of superb high quality for any version of FSX and Prepar3D. Comes with a virtual cockpit and custom sounds. Include with animated and working refueling ramps, read the manual to learn how to use it.
Below a screenshot of the refueling ramps panel (red circle) available only from the virtual cockpit overhead.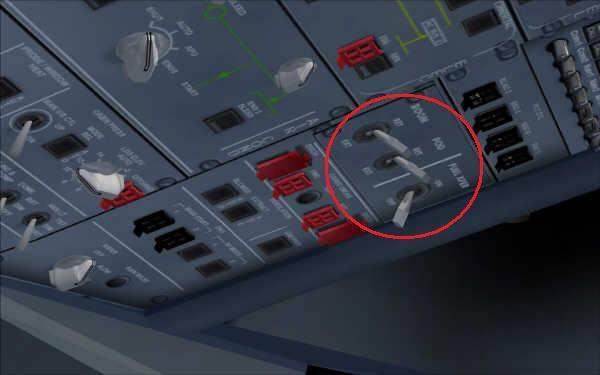 Various screenshots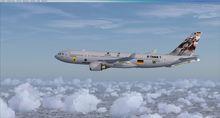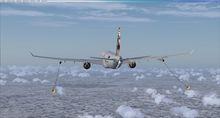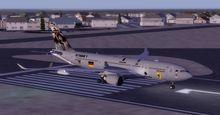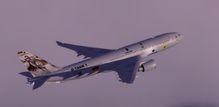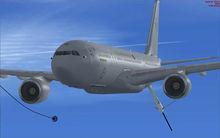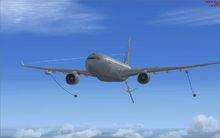 Origins and description of the real aircraft:
The A330 Multi Role Tanker Transport (MRTT) is a military derivative of the Airbus A330-200 airliner. It is designed as a dual-role air-to-air refuelling and transport aircraft. For air-to-air refuelling missions the A330 MRTT can be equipped with a combination of any of the following systems:
* Airbus Military Aerial Refuelling Boom System (ARBS) for receptacle-equipped receiver aircraft.
* Cobham 905E under-wing refuelling pods for probe-equipped receiver aircraft.
* Cobham 805E Fuselage Refuelling Unit (FRU) for probe-equipped receiver aircraft
* Universal Aerial Refuelling Receptacle System Installation (UARRSI) for self-refuelling.
The A330 MRTT has a maximum fuel capacity of 111,000 kg (245,000 lb). Standard fuel capacity allows the carriage of an additional 45,000 kg of cargo. The A330 MRTT's wing has common structure with the four-engine A340-200/-300 with reinforced mounting locations for the A340's outboard engines. The A330 MRTT's wing therefore requires little modification for use of these hardpoints for the wing refuelling pods.
The A330 MRTT cabin is designed to ensure optimum seating configurations in every class, that maximise both capacity and comfort. The cabin can be configured in a large variety of layouts from 253 seats in a three class configuration, through 298 passengers in a two-class configuration, to 380 passengers in a single class configuration. The cabin is furnished with an attractively modern design. These features enable a complete range of configurations from maximized troop transport to complex customization suitable for VIP and guest missions. An optional Crew Rest Compartment (CRC), located in the forward cabin can be installed for a spare crew in order to increase time available for a mission. The passenger cabin of the A330 MRTT can be provided with a set of removable airstairs to enable the crew and passengers to enter and leave the aircraft when airbridges or ground support equipment are not available.
The A330 MRTT can also be configured to perform Medical Evacuation (Medevac) missions. The large size of the fuselage permits maximum flexibility and ensures comfort to all patients, e.g. up to 130 standard stretchers can be carried.
Like the A330-200, the A330 MRTT includes two lower deck cargo compartments (forward and aft) and a bulk area capability which further demonstrates the versatility of the aircraft. The cargo hold has been modified to be able to transport up to 8 military pallets in addition to civilian ULD.
The versatility of the A330 MRTT enables a large number of cargo options to be transported in the optional main deck cargo compartment. From standard commercial containers and pallets through military, ISO and NATO pallets (including seats) and containers, to military equipment and other large items which are loaded through a cargo door.
Standard commercial A330-200s are delivered from Airbus Final Assembly Line in Toulouse (France) to Airbus Military Conversion Centre in Getafe (Spain) for fitting of refuelling systems and military avionics. The first delivery to the launch customer, Australia is planned for mid-2010. Qantas Defence Services is converting the remaining four A330-200s at its Brisbane Airport facility on behalf of EADS for the RAAF.
FILE INFORMATION
Rating

Size 45.0 MB

Downloads 35 210

License Freeware

VC3D Virtual Cockpit

Format Native FSX / P3D format

Auto-install Installer version 10.5

Tom Airbus A330 MRTT is compatible with Prepar3D v1 up to Prepar3D v5 and FSX-Steam as well as FSX (all versions)

Author : Model by Thomas Ruth, Updates by Chris Evans & Louis Quintero & Rikoooo
Share this with your friends:
---