Boeing B-52 Stratofortress Alphasim FSX SP2 & P3D
Updated on 03/11/2012 : Correction of the engine smoke that were displayed vertically instead of horizontally
. Here is the Alphasim B-52 Bombardier modified for FSX SP2/P3D includes two models B-52G and B-52H and six textures, also includes a superb 3D cockpit (VC) and 2D custom sounds for the B-52. Press Ctrl + W to open the bomb bay and Shift + E for the crew hatch (see the manual for more details). It is a very big machine and you need the flaps for takeoff, especially if you're fully charged in kerosene. Includes animations su as animated co-pilot, smoke, flexible wings etc. It has an advanced flight model wich is more realistic.
The Boeing B-52 Stratofortress is a long-range, subsonic, jet-powered strategic bomber. The B-52 was designed and built by Boeing, who have continued to provide support and upgrades. It has been operated by the United States Air Force (USAF) since the 1950s. The bomber carries up to 70,000 pounds (32,000 kg) of weapons.
Beginning with the successful contract bid in June 1946, the B-52 design evolved from a straight-wing aircraft powered by six turboprop engines to the final prototype YB-52 with eight turbojet engines and swept wings. The B-52 took its maiden flight in April 1952. Built to carry nuclear weapons for Cold War-era deterrence missions, the B-52 Stratofortress replaced the Convair B-36. Although a veteran of several wars, the Stratofortress has dropped only conventional munitions in combat. Its Stratofortress name is rarely used outside of official contexts; it has been referred to by Air Force personnel as the BUFF (Big Ugly Fat/Flying Fucker/Fellow).
The B-52 has been in active service with the USAF since 1955. The bombers flew under the Strategic Air Command (SAC) until it was disestablished in 1992 and its aircraft absorbed into the Air Combat Command (ACC); in 2010 all B-52 Stratofortresses were transferred from the ACC to the new Air Force Global Strike Command (AFGSC). Superior performance at high subsonic speeds and relatively low operating costs have kept the B-52 in service despite the advent of later aircraft, including the cancelled Mach 3 North American XB-70 Valkyrie, the variable-geometry Rockwell B-1B Lancer, and the stealthy Northrop Grumman B-2 Spirit. The B-52 marked its 50th anniversary of continuous service with its original operator in 2005 and after being upgraded between 2013 and 2015 it will serve into the 2040s. (Wikipedia)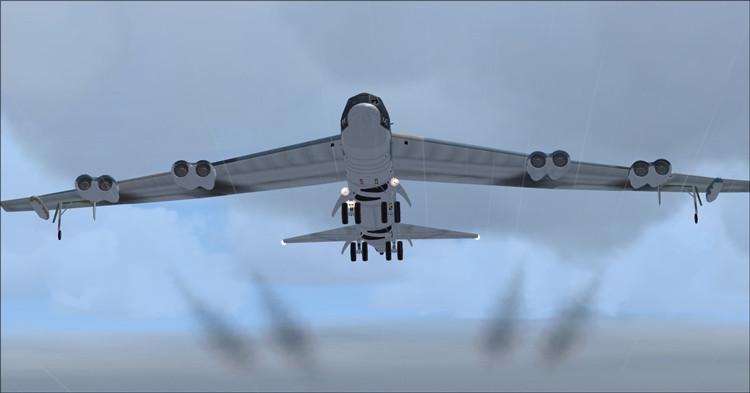 FILE INFORMATION
Rating

Size 16.3 MB

Downloads 30 231

License Freeware

VC3D Virtual Cockpit

FormatPort-Over - Not compatible P3Dv4+

Boeing B-52 Stratofortress Alphasim is compatible with Prepar3D v1 and FSX-Steam as well as FSX-SP2

Author : Alphasim & Steve Hess
Share this with your friends:
---