UKMIL C-17 Globemaster III v1.1 FSX & P3D
Size 27.8 MB
Downloads 69 185
Created 02-10-2013 02:12:04
Changed 30-05-2015 19:01:14
License
Freeware
Auto-install : #Installer version 2
Author :
UKMIL
http://www.ukmil.org.uk
Download
For FSX-SP2 & FSX-Steam & P3D v1. *v2 v3 v4 to be tested&nbsp&nbsp&nbsp&nbsp&nbsp&nbsp #Native FSX and/or P3D&nbsp&nbsp&nbsp&nbsp#3D Virtual Cockpit
Very nice visual model created in Gmax with full VC. An add-on that will delight fans of the famous C-17. Complete package including 11 repaints. Read the manual included in the package for instructions.
The Boeing C-17 Globemaster III is a large military transport aircraft. It was developed for the United States Air Force (USAF) from the 1980s to the early 1990s by McDonnell Douglas. The C-17 carries the name of two previous piston-engined military cargo aircraft, the Douglas C-74 Globemaster and the Douglas C-124 Globemaster II. The C-17 commonly performs strategic airlift missions, transporting troops and cargo throughout the world; additional roles include tactical airlift, medical evacuation and airdrop duties.
Boeing, which merged with McDonnell Douglas in the 1990s, continues to manufacture C-17s for export customers following the end of deliveries to the U.S. Air Force. The C-17 is operated by the U.S. Air Force, the United Kingdom, Australia, Canada, Qatar, United Arab Emirates, NATO Heavy Airlift Wing, and India. (Wikipedia)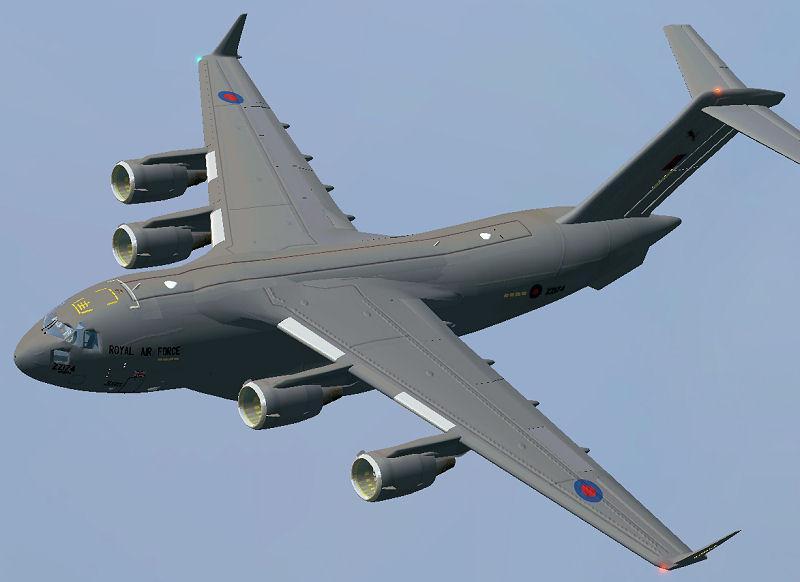 UKMIL C-17 Globemaster III v1.1 FSX & P3D
Download